www.kancheesilks.co.in is the website of Kanchee Silks Showroom situated at Road No.10, Banjara Hills, Hyderabad, India. Kanchee Silks is the brand of famous 44 years old retailer Srinivasa Textiles, Hyderabad.
Kanchee Silks is managed by third generation passionate business entrepreneurs who have been selling most exclusive, exquisite Handloom Sarees from finest craftsmen from different parts of India. We absolutely understand and make sure our customers carry the rich culture of heirloom and tradition by selling pure silk handlooms and that too at most affordable prices.
Website is designed to reach customers who are not able to visit our showroom and wanted to buy from a trusted place.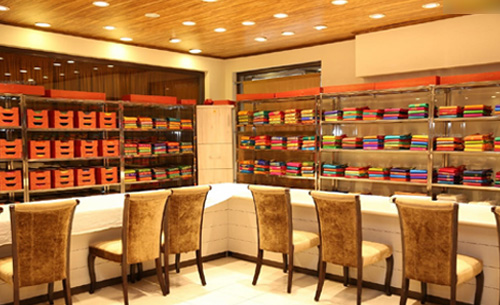 Our handpicked unique designs, lowest prices, silk marked, 44 year old trust, brick and mortar showroom can make you comfortably buy from any where in the World
Our Show Room at:
KANCHEE SILKS
ROAD NO.10, BESIDE STAR HOSPITAL,
BANJARA HILLS,
HYDERABAD-500034
Phone: +91 9966663456
For Online Enquiries:
Whatsapp: +919966663456